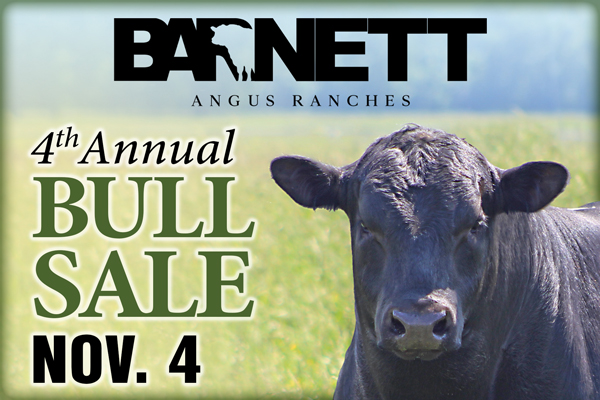 Barnett Angus Ranches
4th Annual Bull Sale
Saturday, Nov. 4, 2023 • 12 Noon
At the farm • Washington, Georgia
Selling
125 Two-Year-Old Angus Bulls
50 Bred Commercial Angus Heifers
Watch the sale and bid live online at LiveAuctions.tv.
INTENTIONAL DEVELOPMENT CREATES DEMAND SOLUTIONS
Drought is leading to cow herd reductions across the country, fewer beef cattle in the supply chain, lighter carcass weights and a dramatic reduction of quality beef in the meat case. The intentional development of Angus bulls with calving ease, explosive growth and carcass potential is more important than we've experienced in a decade. BAR bulls possess the meat and muscle genetics that ensure their progeny exceeds beef industry demands for quality.
Join us Saturday, November 4, 2023 for the Barnett Angus Ranch 4th Annual Bull Sale, Washington, Georgia. See the result of intentional development of Angus bulls designed to meet the needs of a well defined, value-added market.